Beeketal Gastro Cocoa Dispenser Cocoa Warmer
---
Item number 672
Variantennummer:BKD
---
Technical data:

| | |
| --- | --- |
| Model: | BKD-1 |
| Connection: | 230 V - 50 Hz |
| Power: | 1200 watts |
| Total volume: | 3 litres |
| Dimension (L/W/H): | approx. 200 x 280 x 415 mm |
| Temperature regulation: | 0 - 90 °C |
| Power cable length: | approx. 1200 mm |
| Net weight: | approx. 4,9 kg |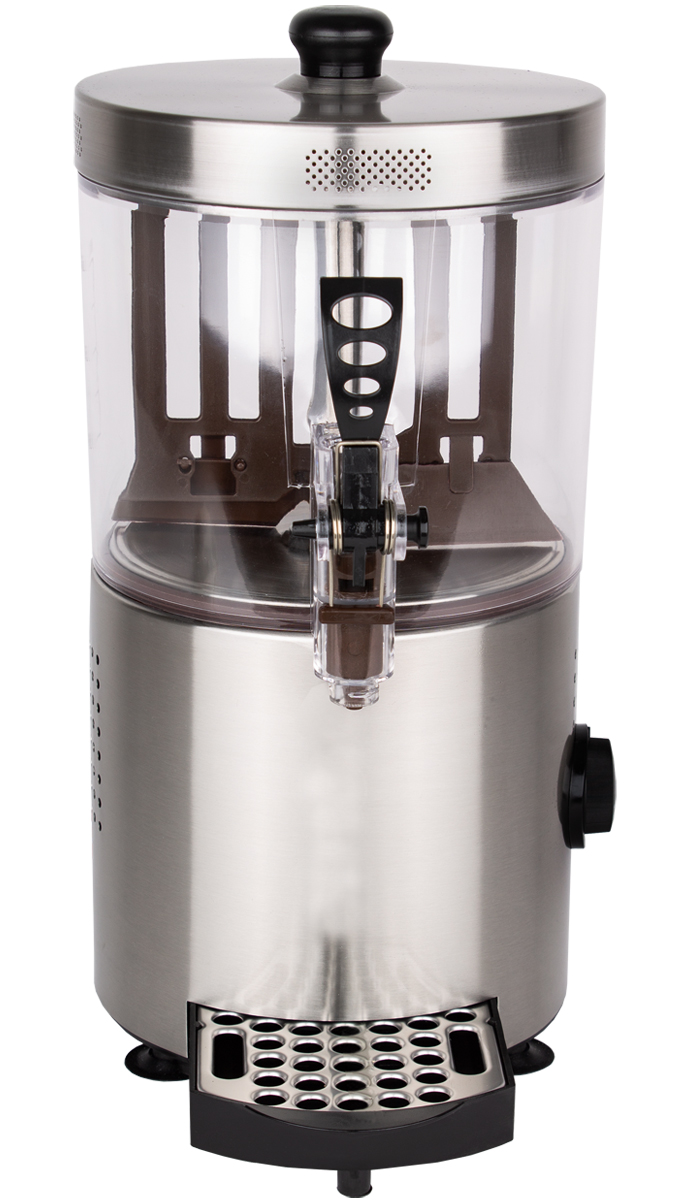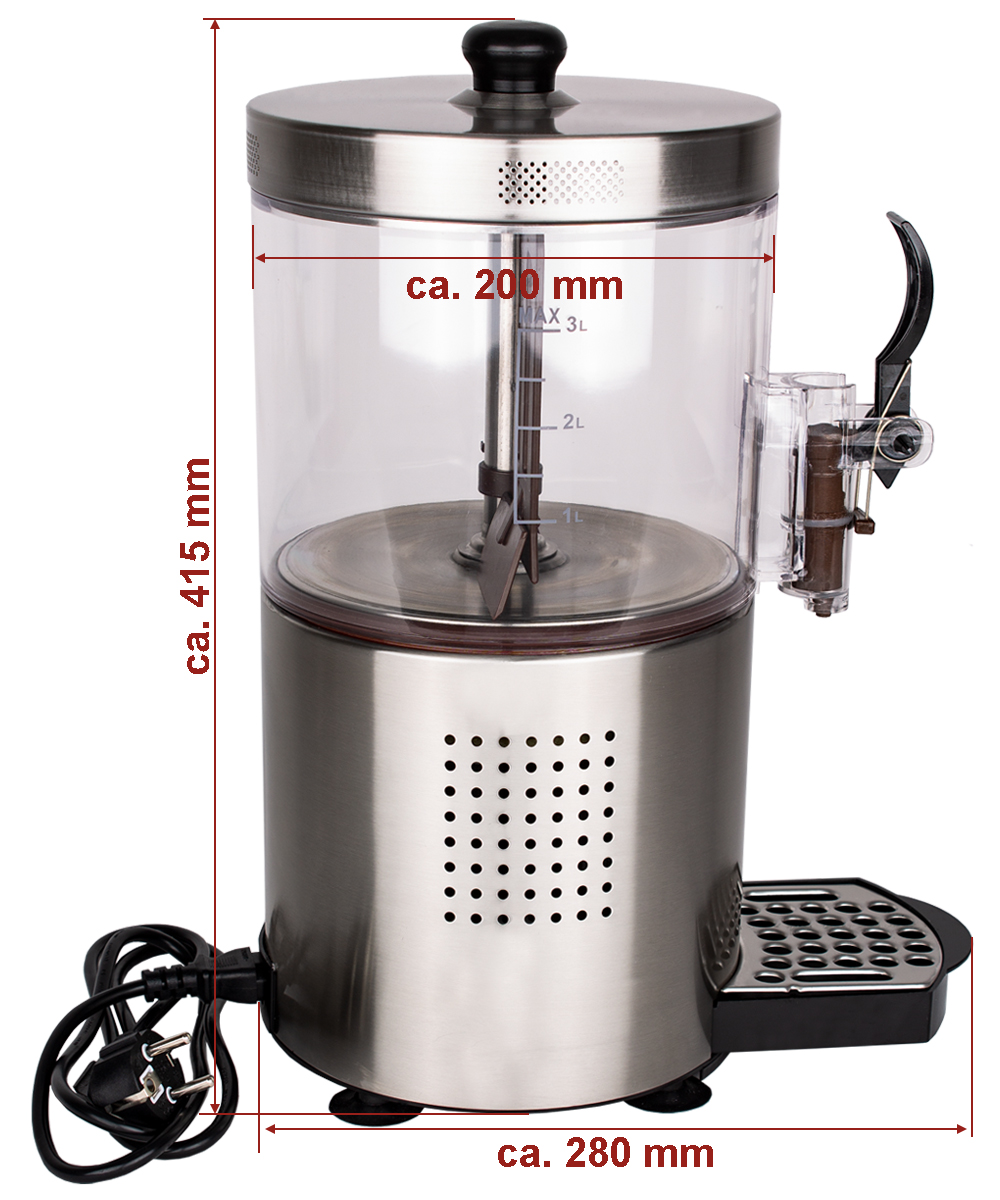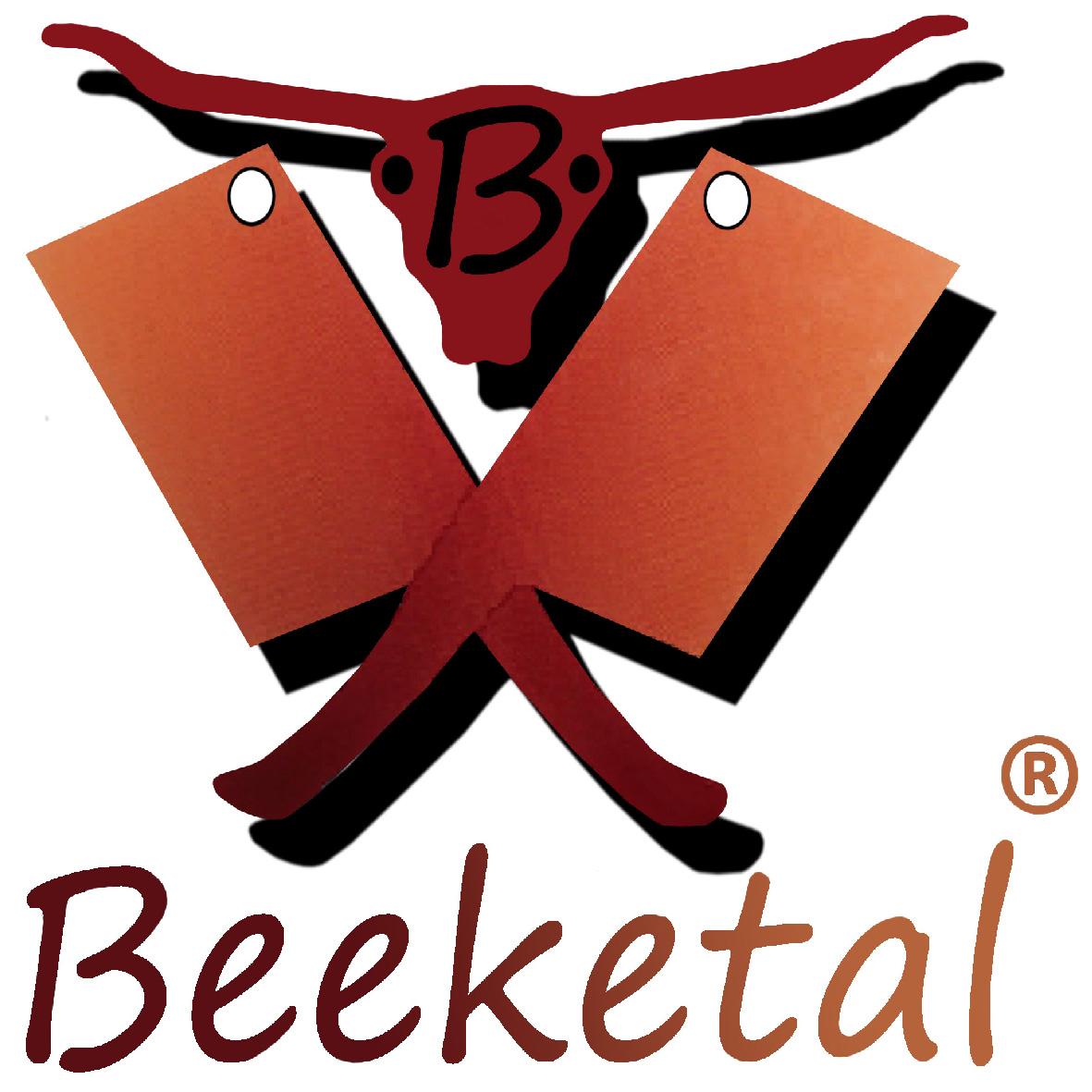 New Model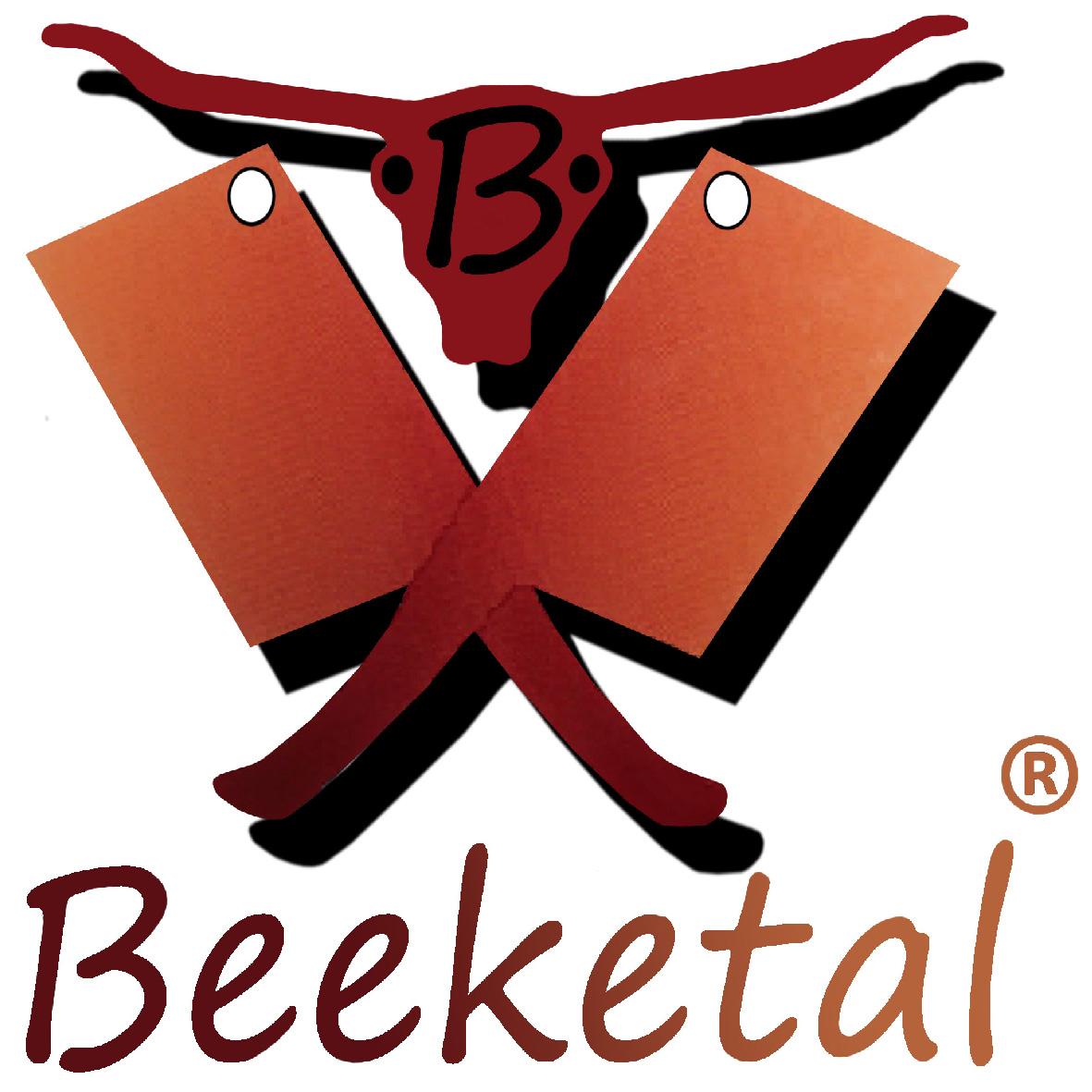 Stainless steel housing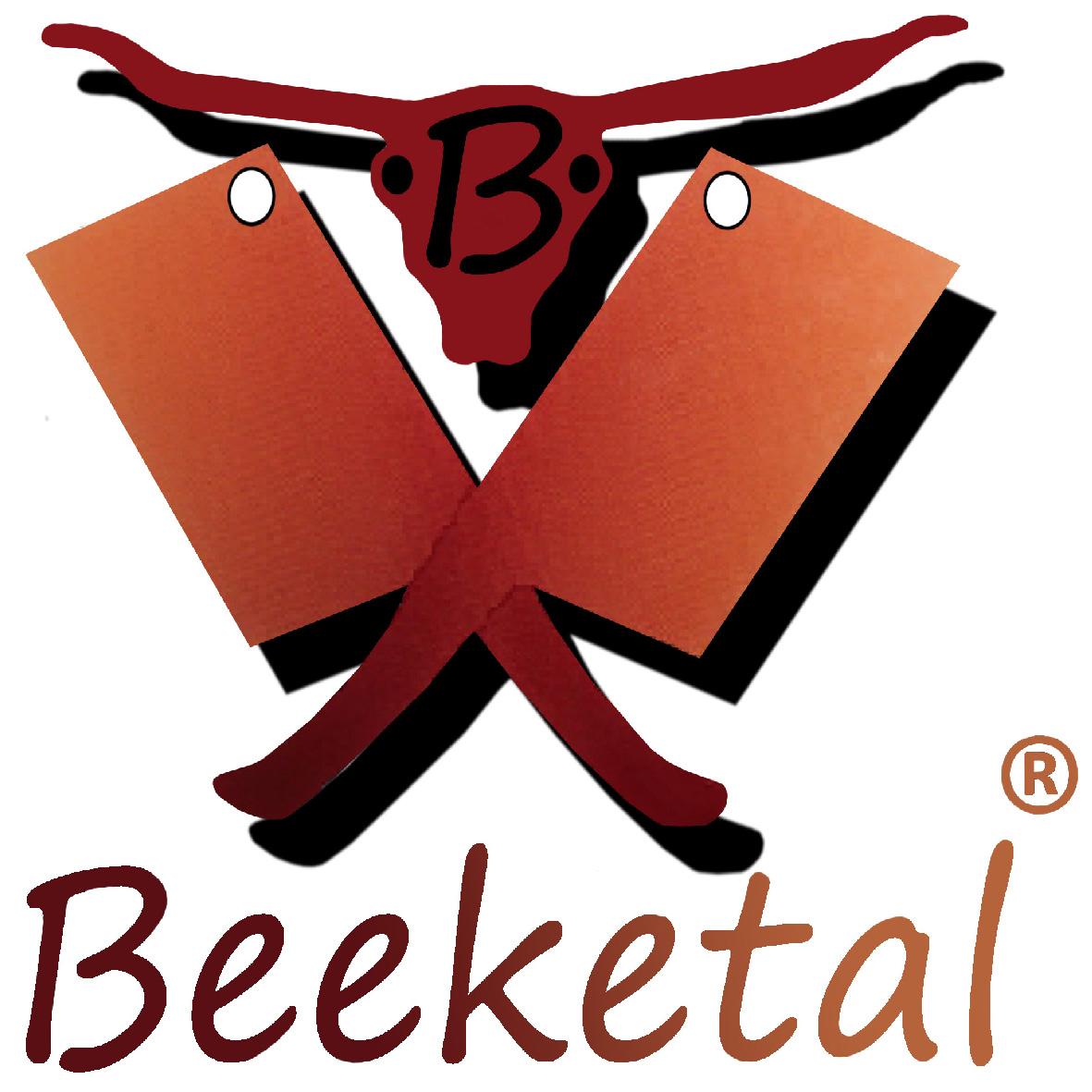 Cocoa container made of Polycarbonate (PC), food safe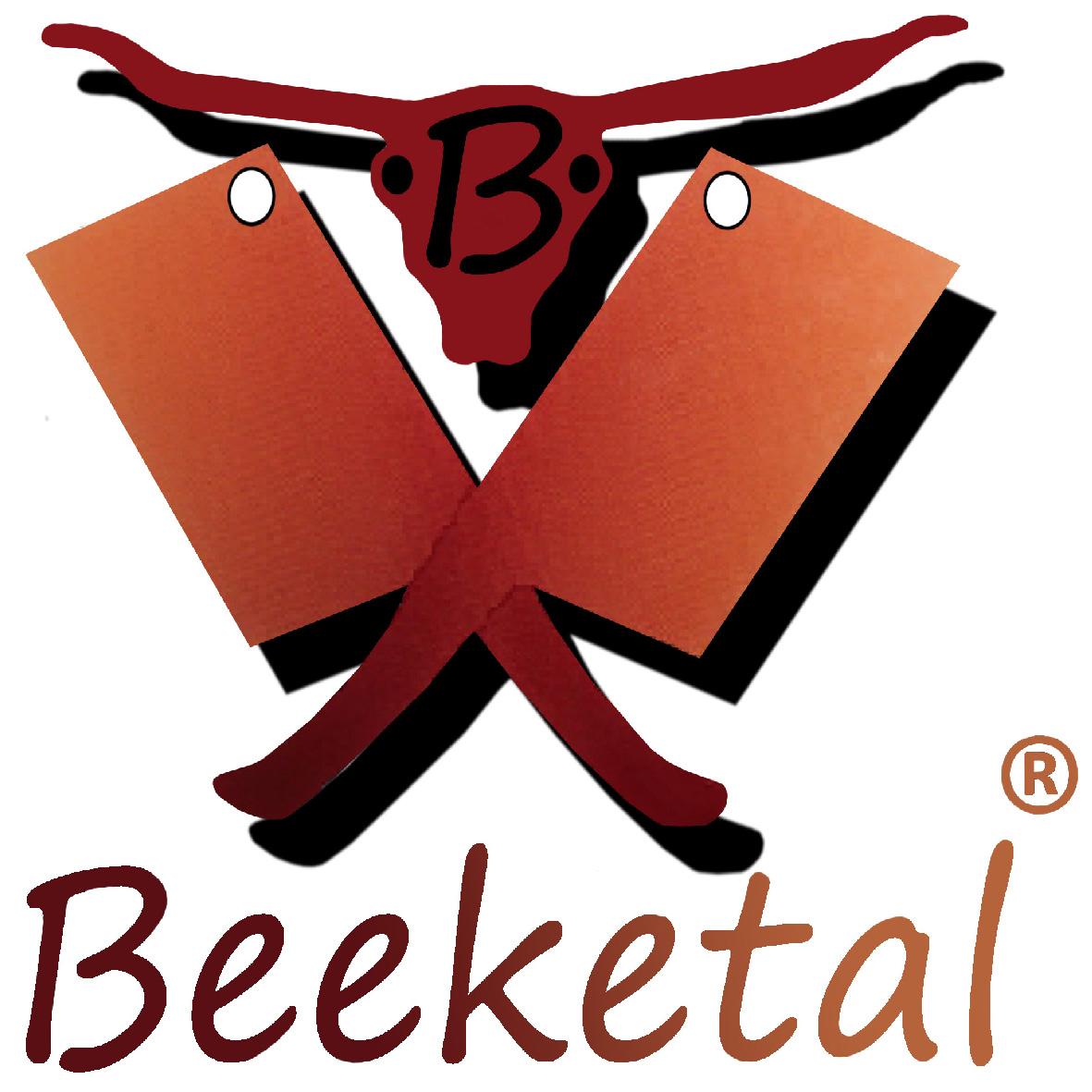 Mixing paddle, drip tray and drain cock made of robust plastic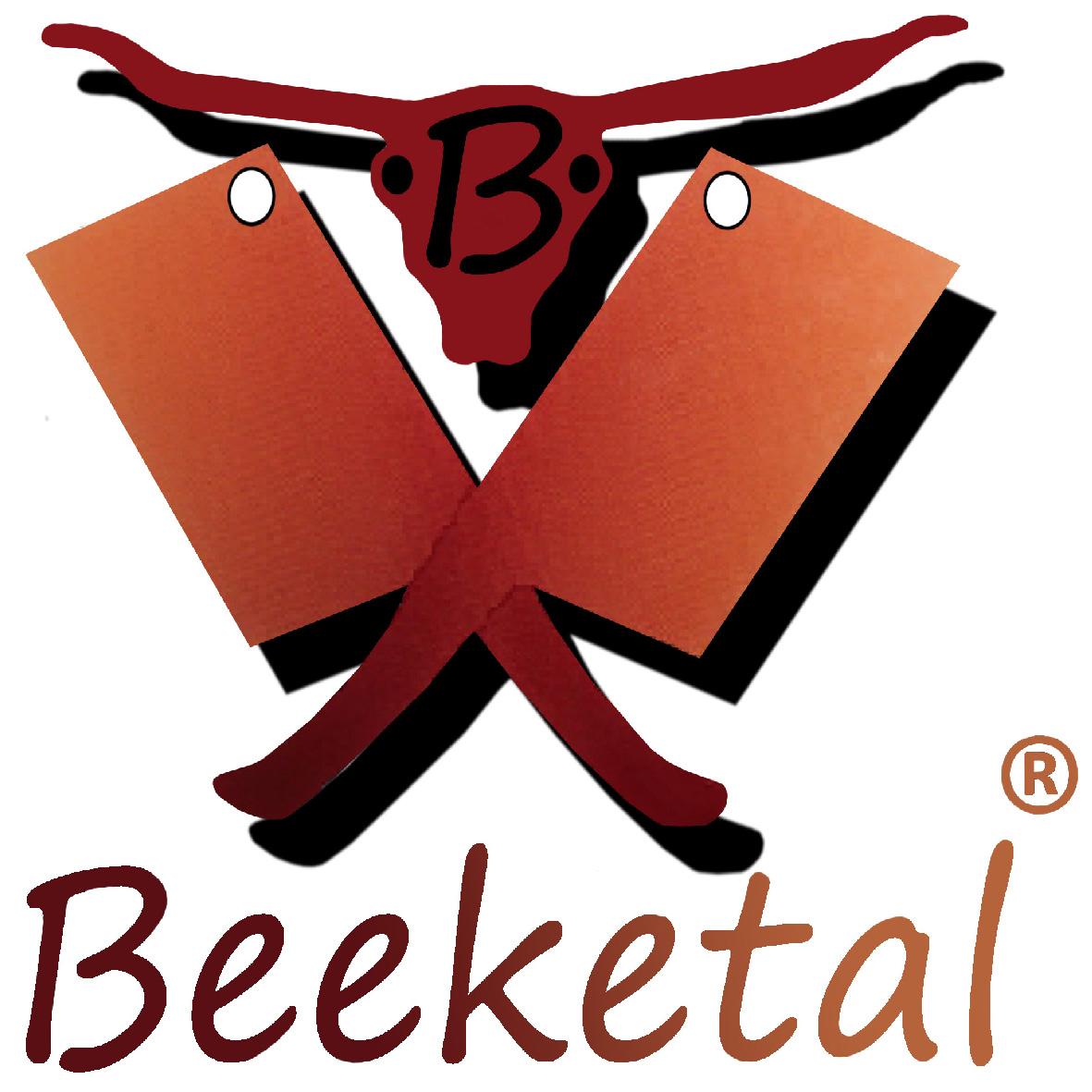 High productivity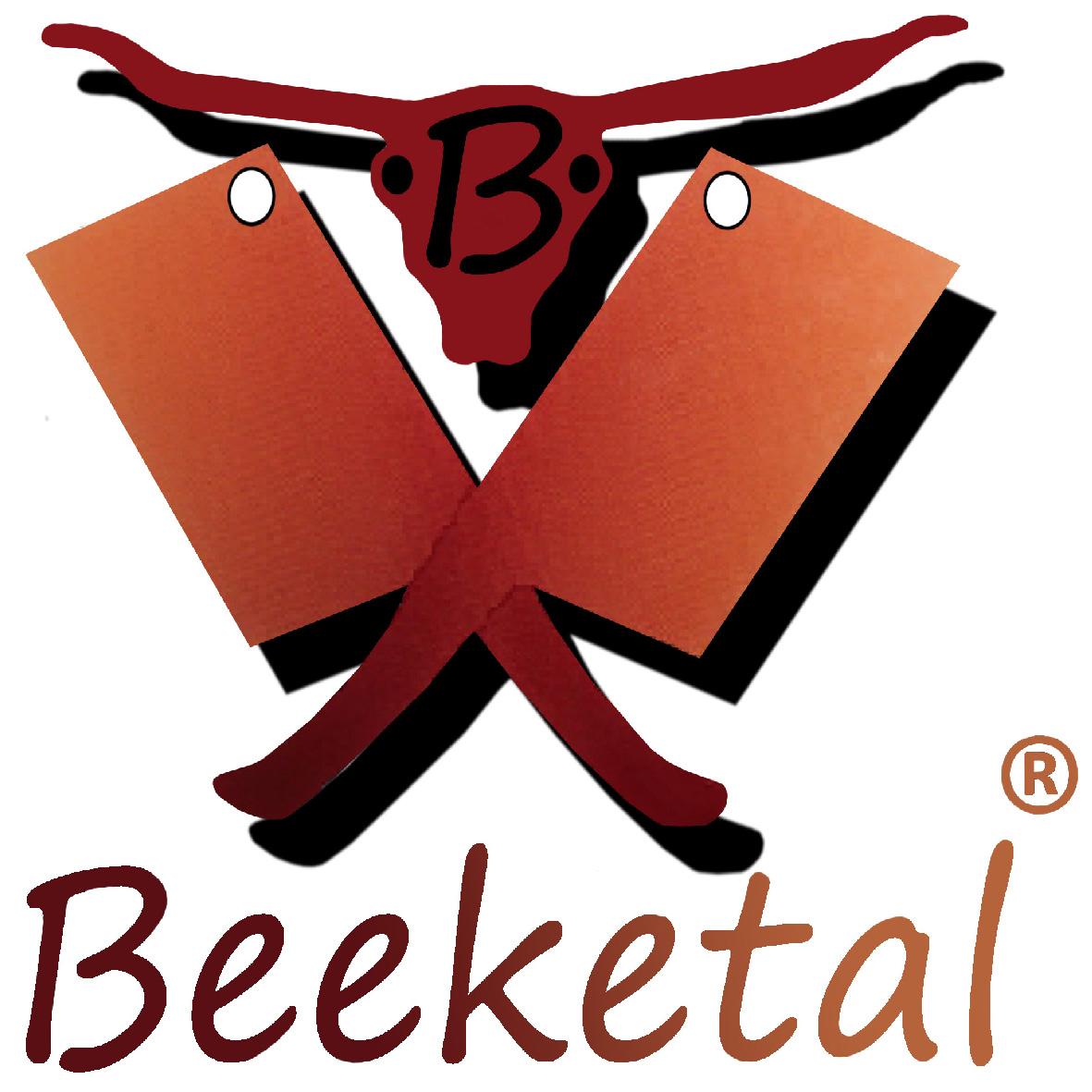 3 litre volume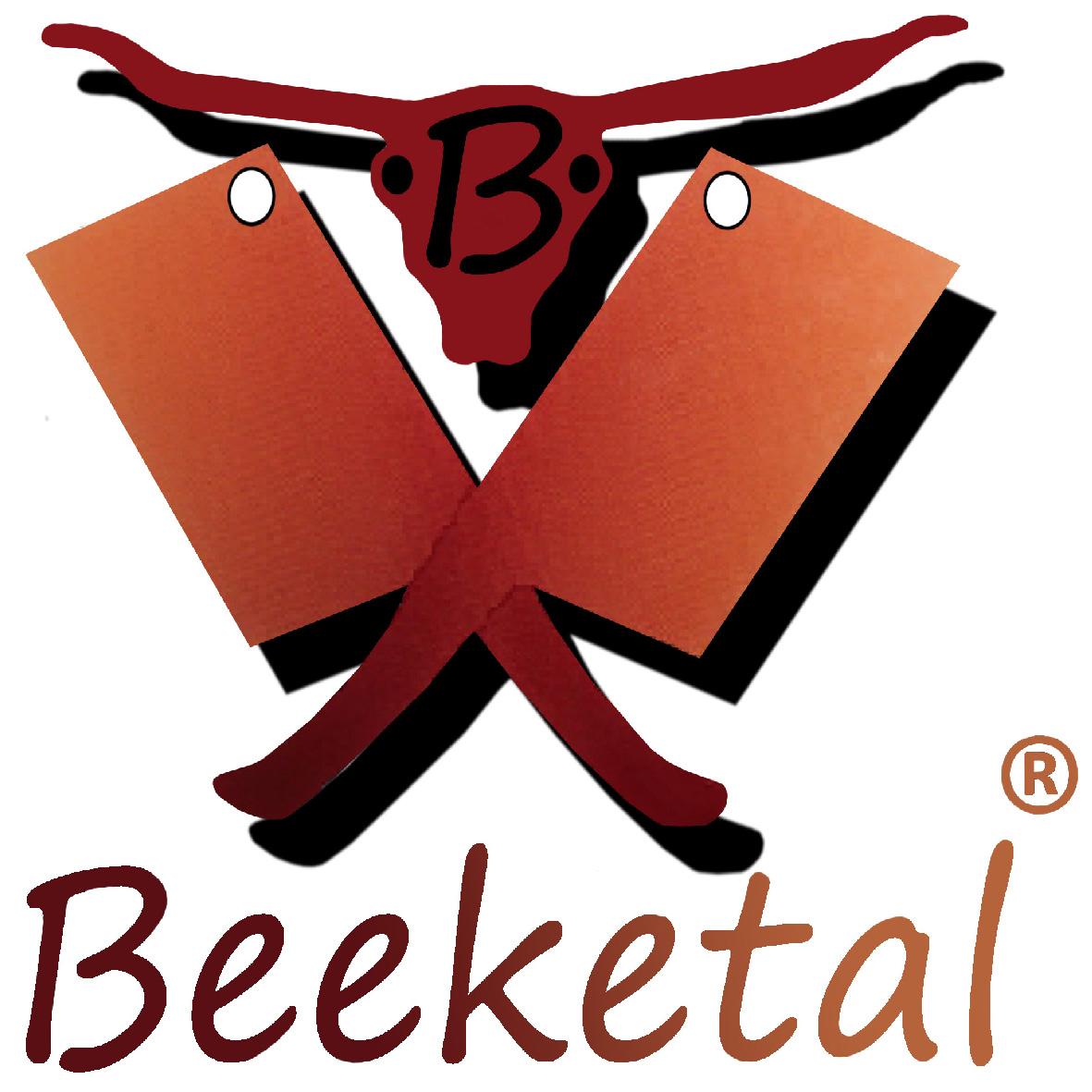 Suitable for keeping warm / heating cocoa, milk and other hot drinks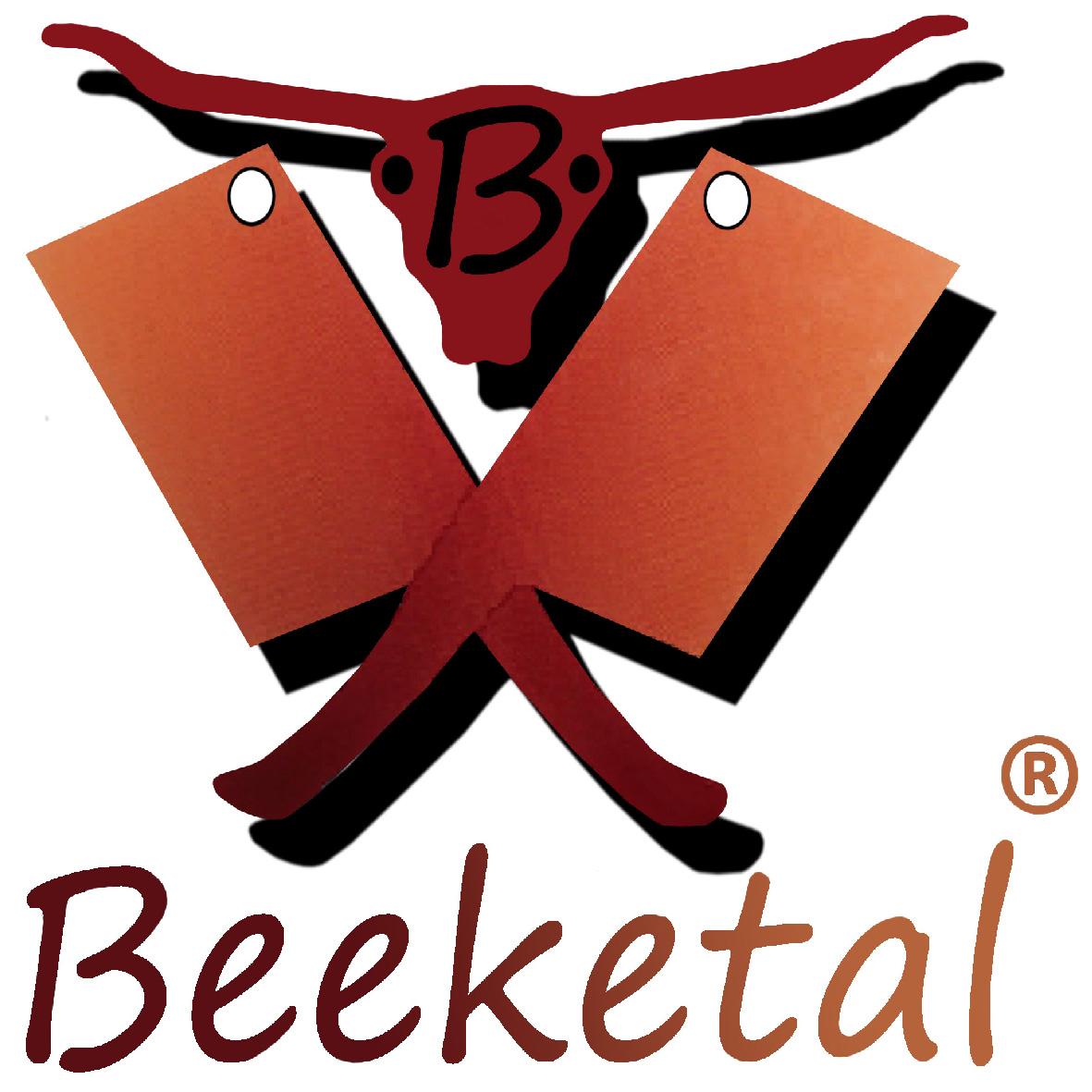 Also suitable for heating mulled wine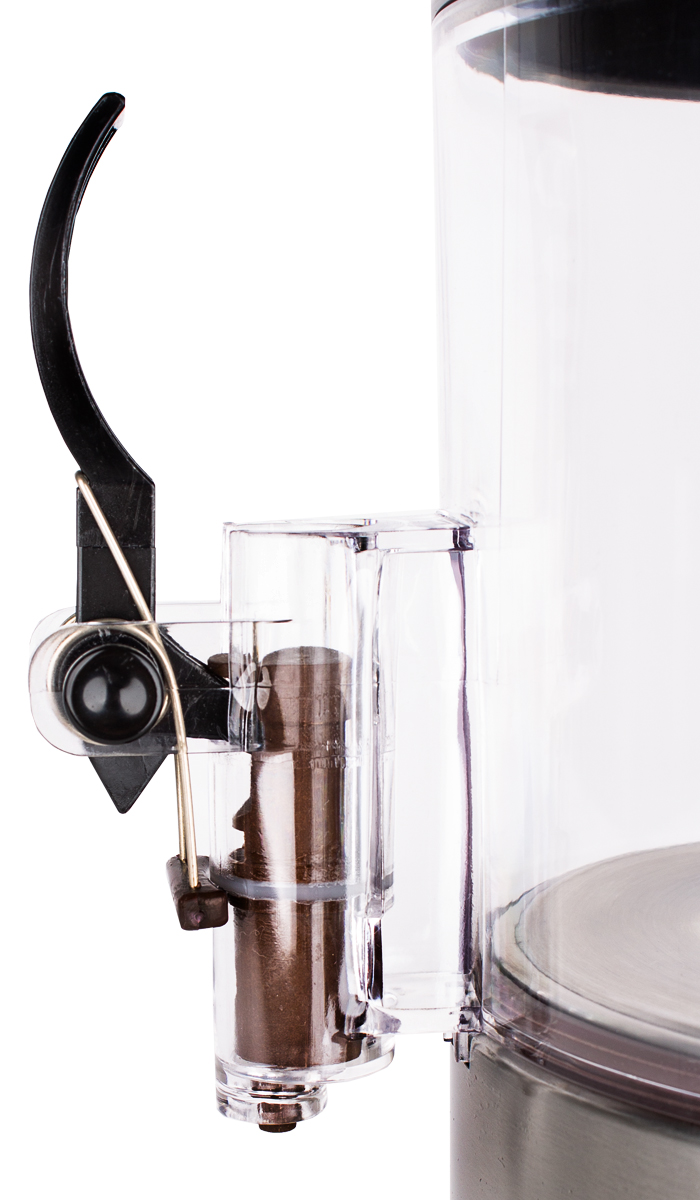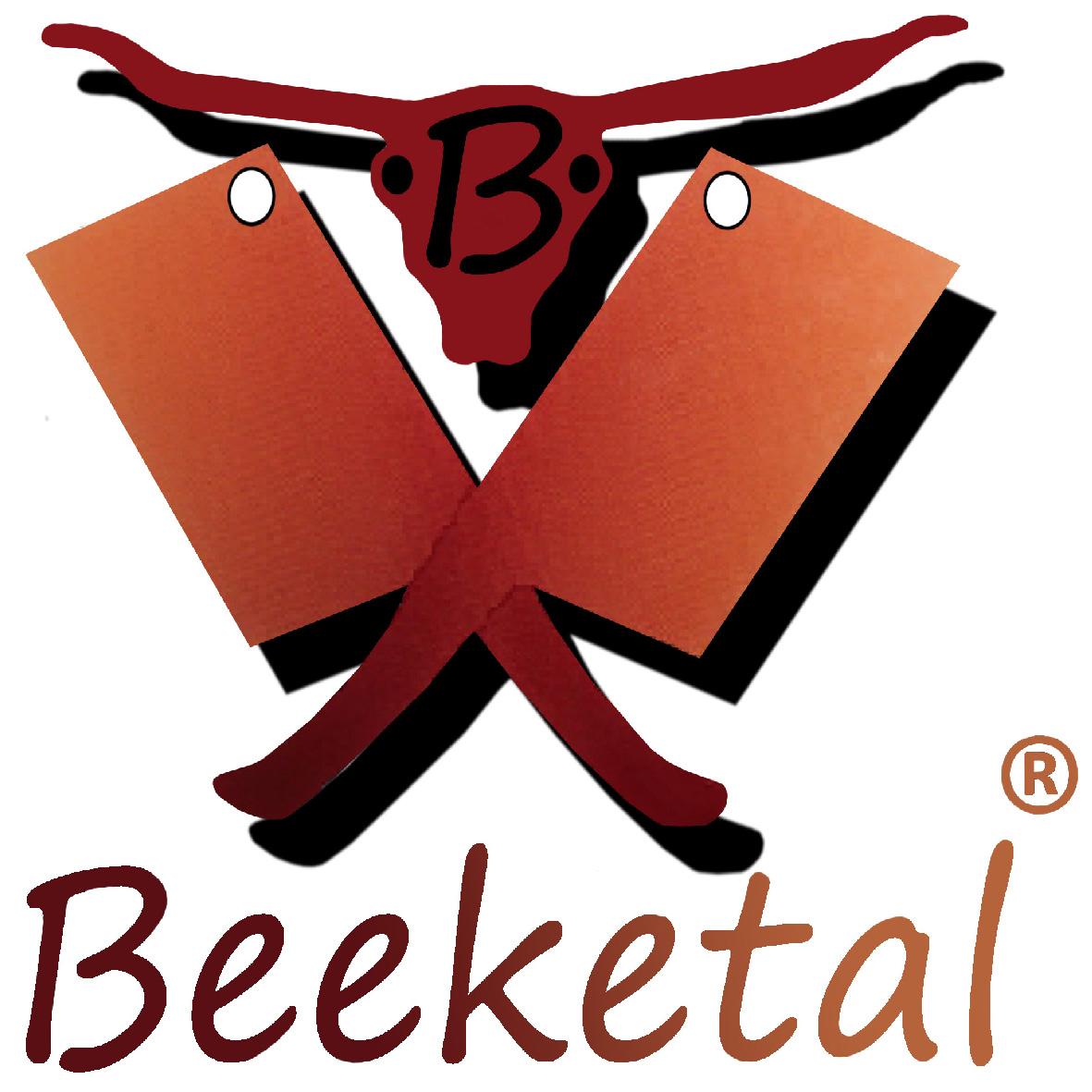 Solid construction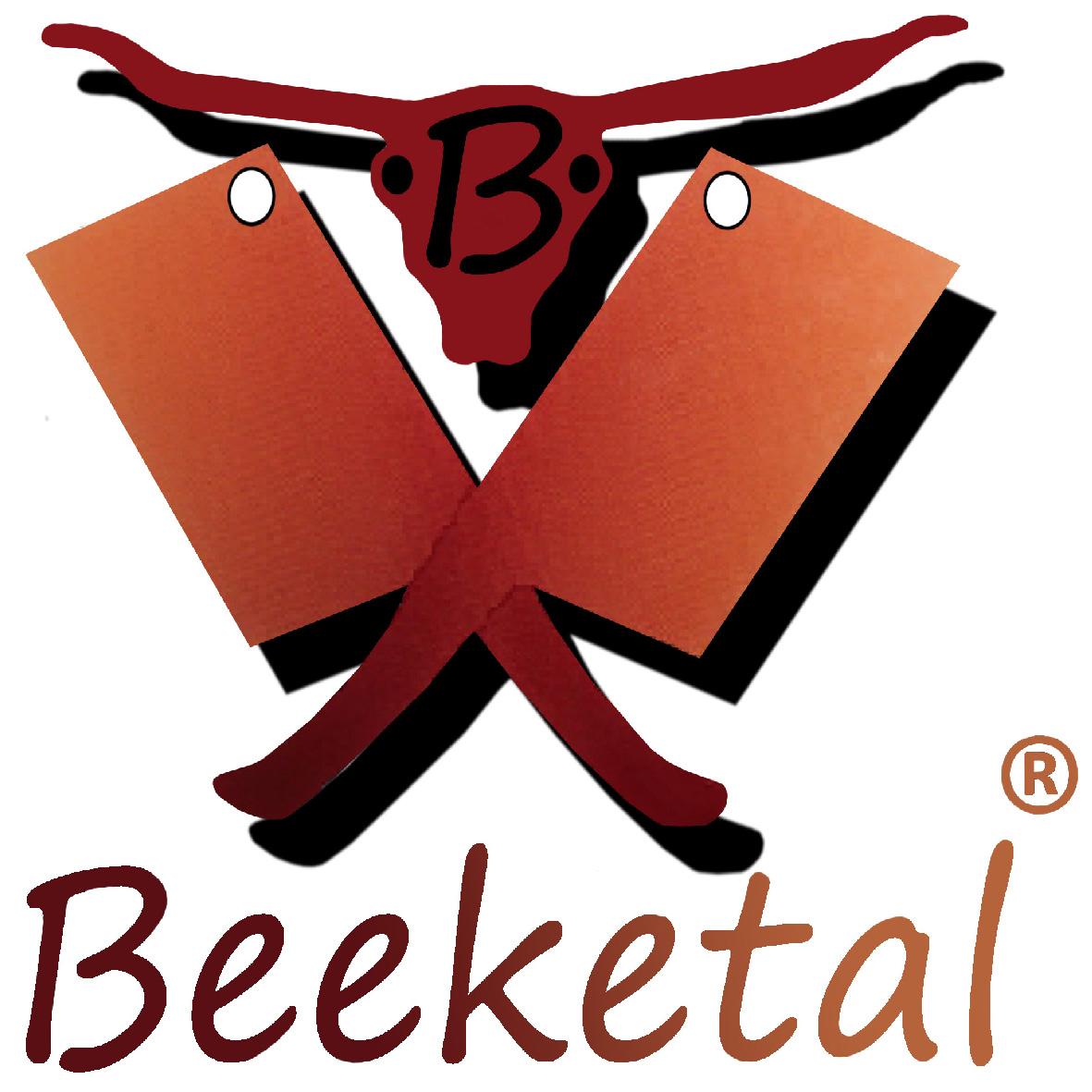 Incl. measuring cup and 1x spare tap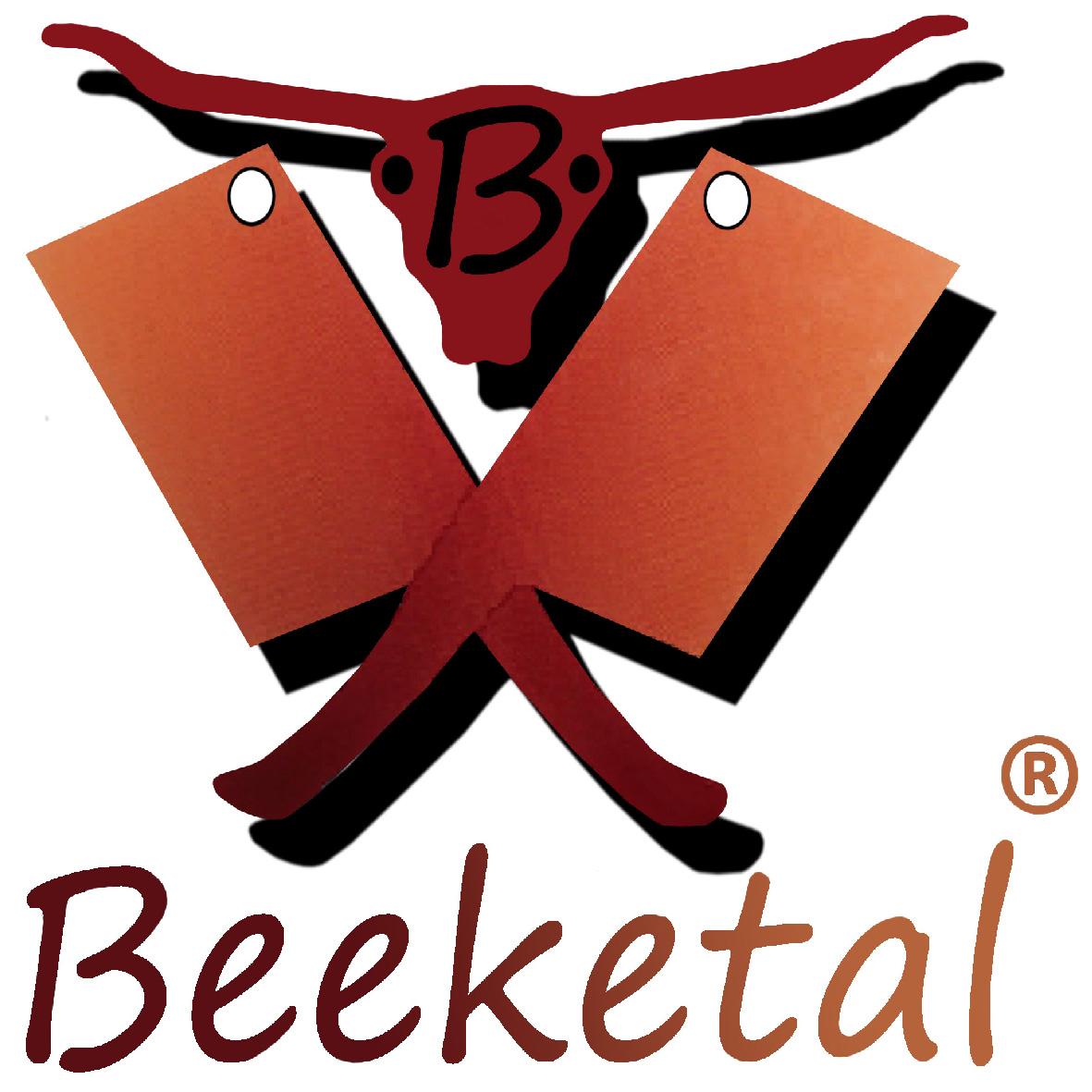 Equipped with two thermostats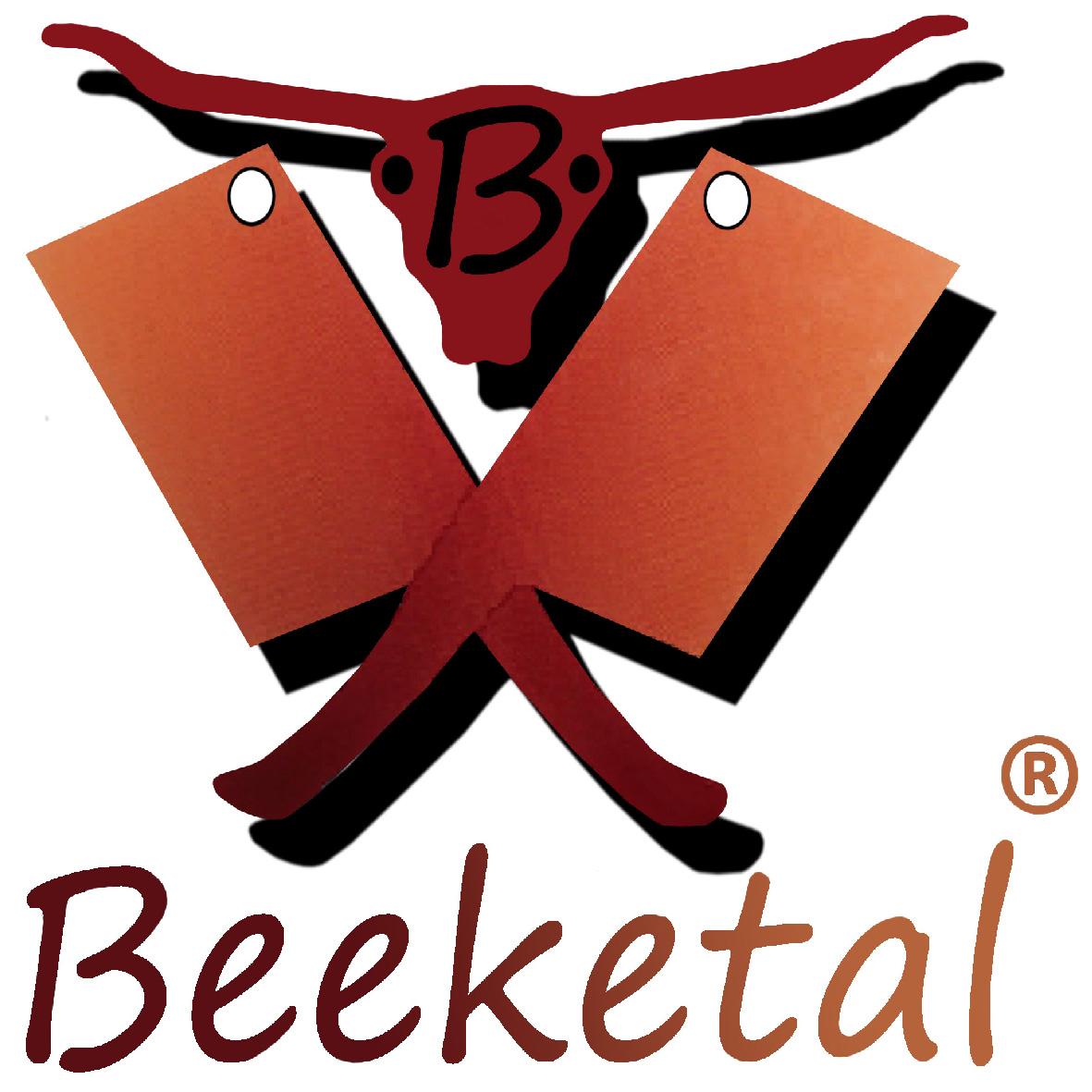 Drip tray can be pulled out, therefore easy to clean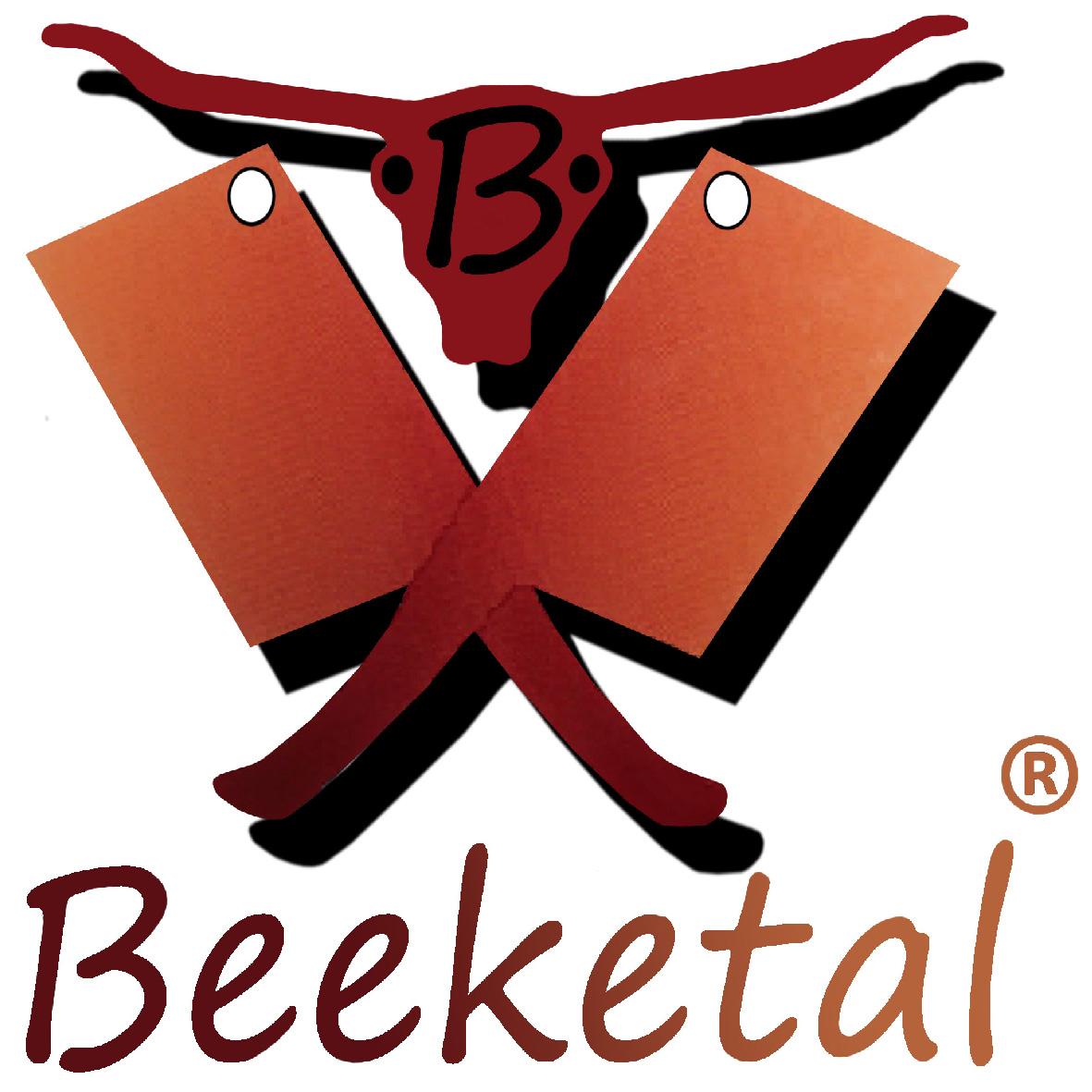 Temperature infinitely variable from 0 - 90 °C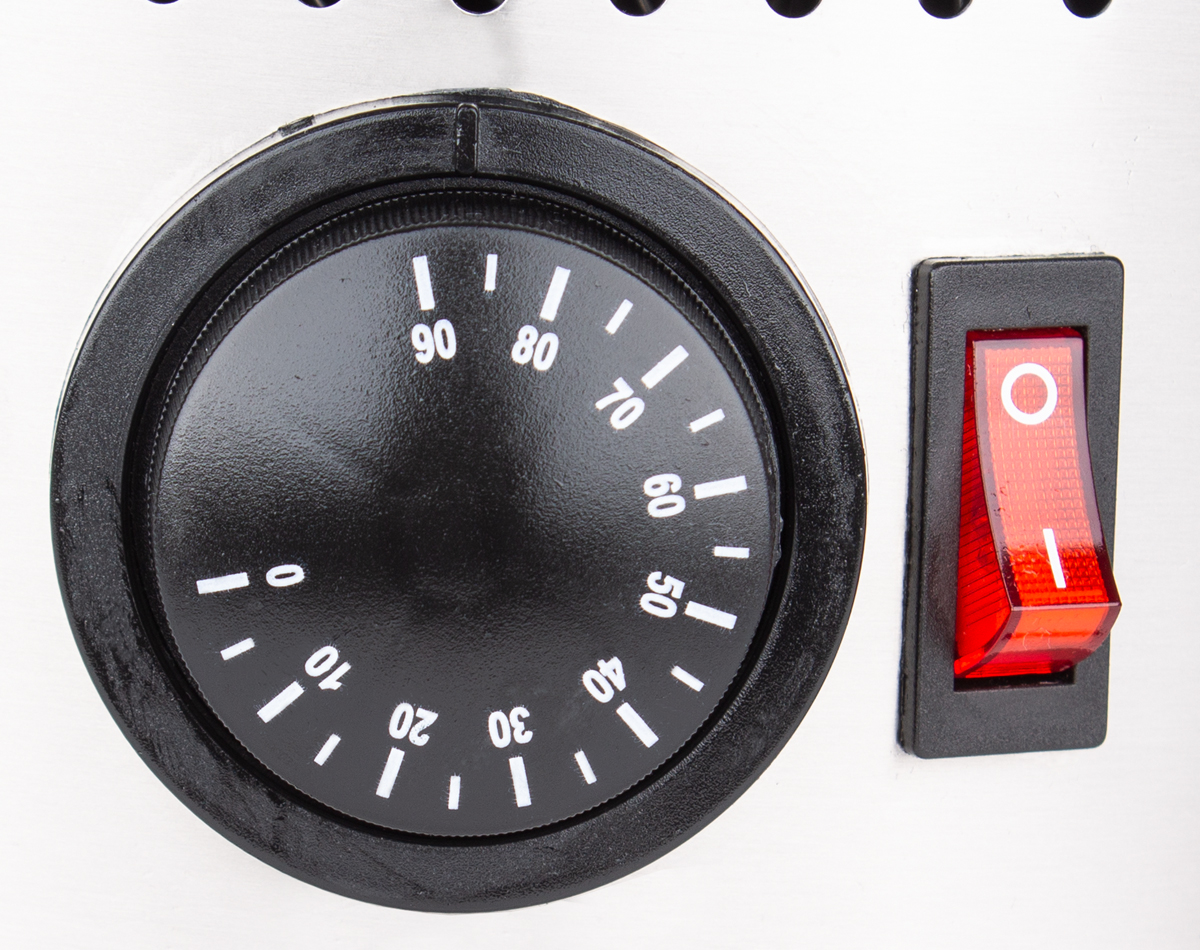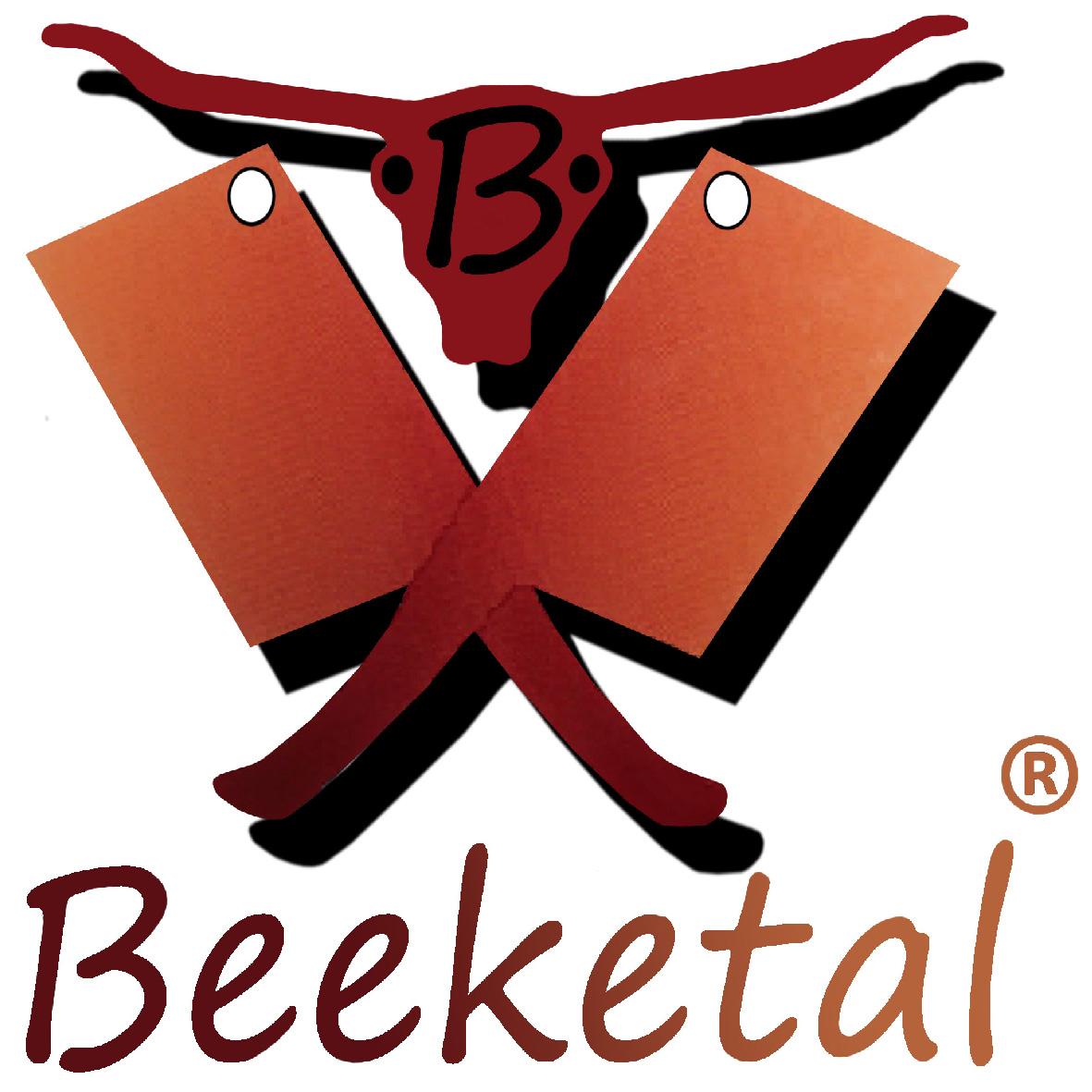 Naturally stainless
Stable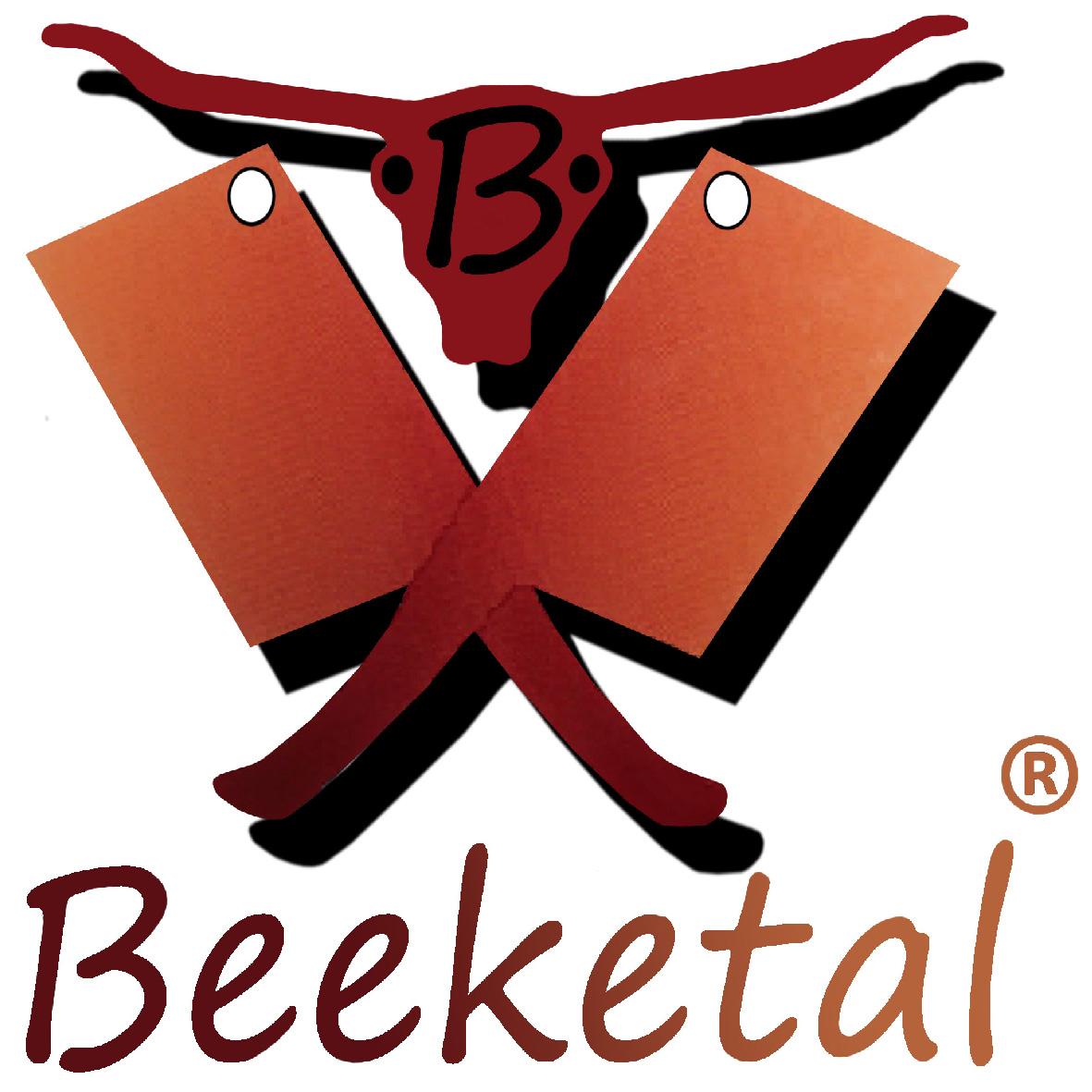 Stable stand due to suction cups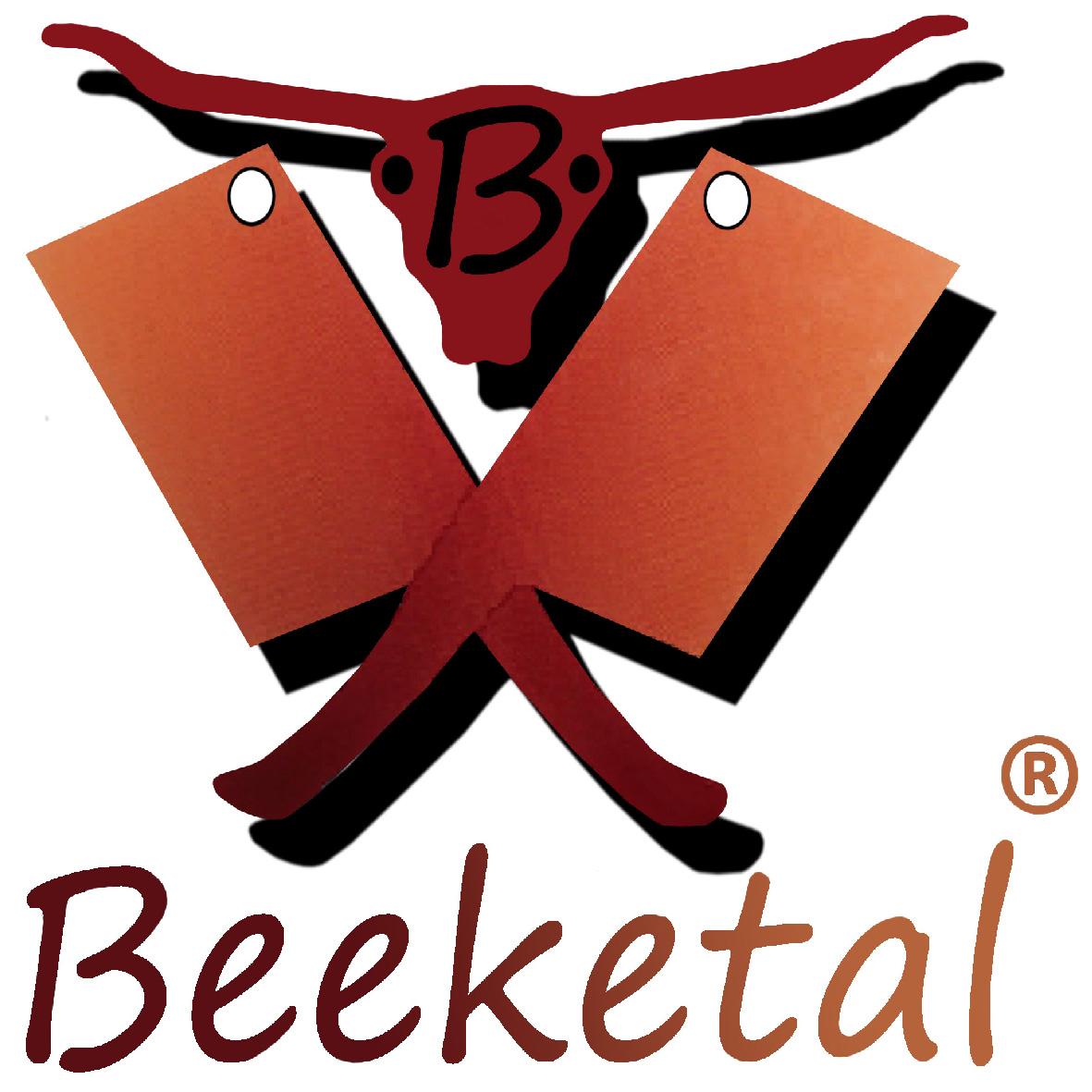 Perfect for hotels, restaurants, pensions, cafes and and and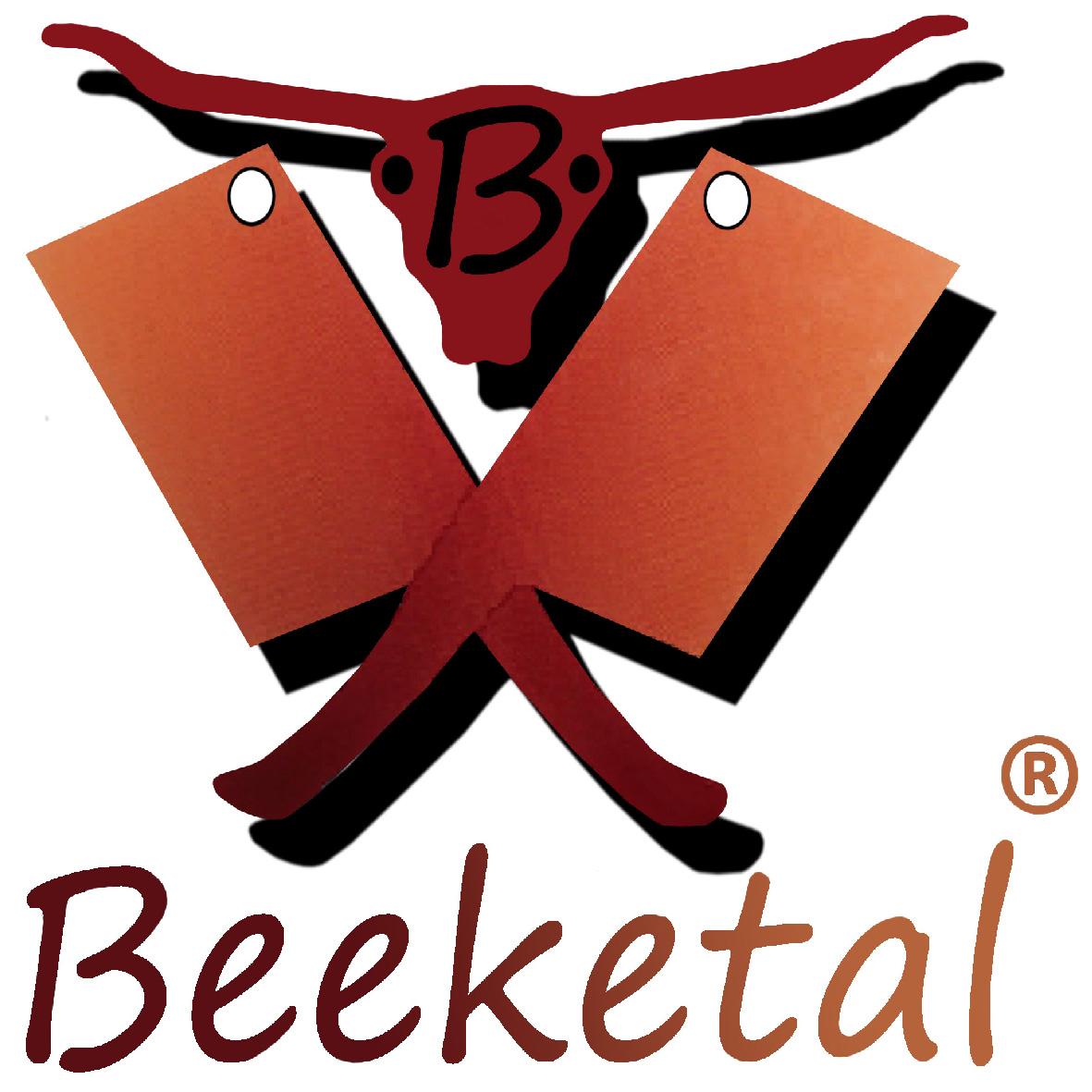 Of course detergent resistant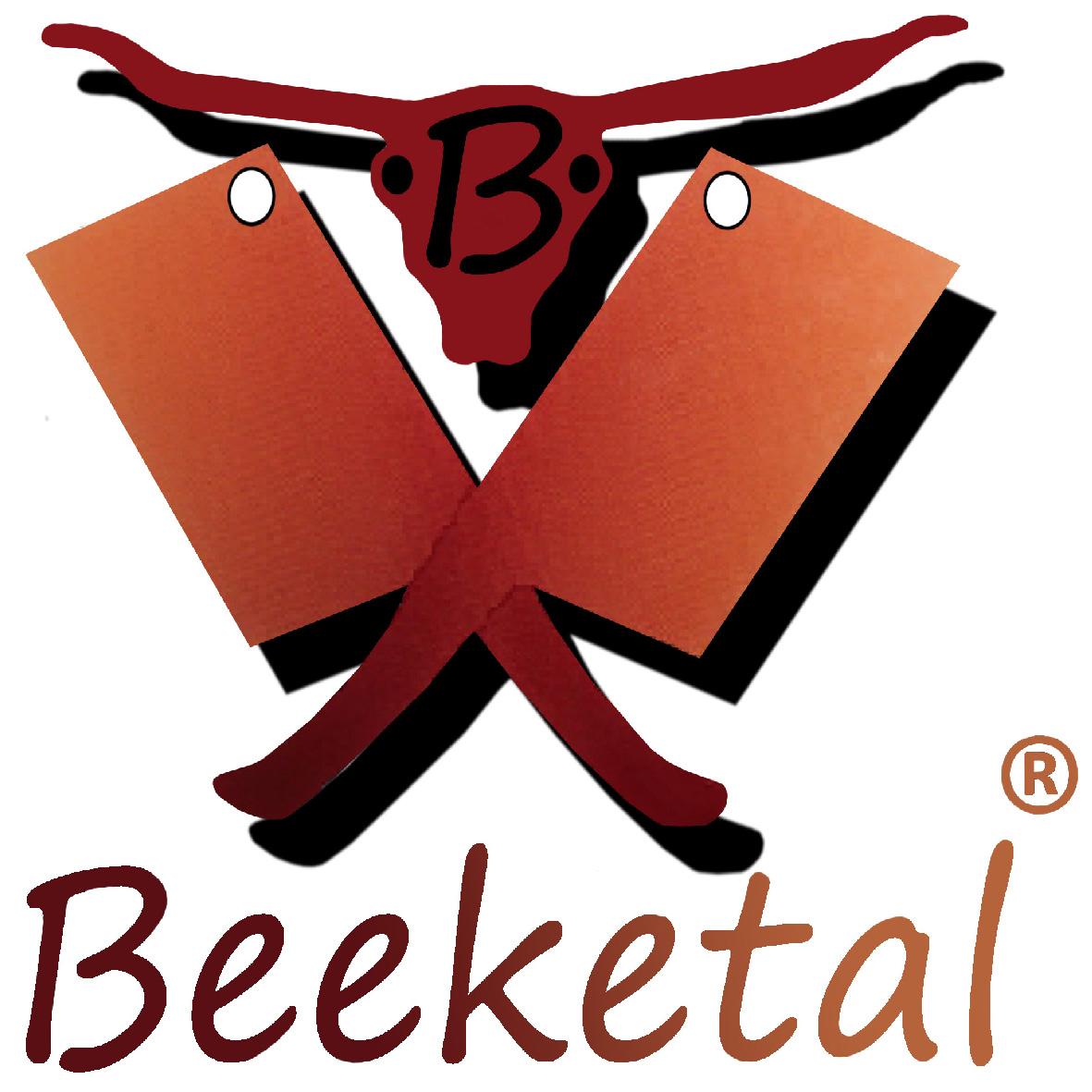 Exhaust air in the lid adjustable - so condensation is avoided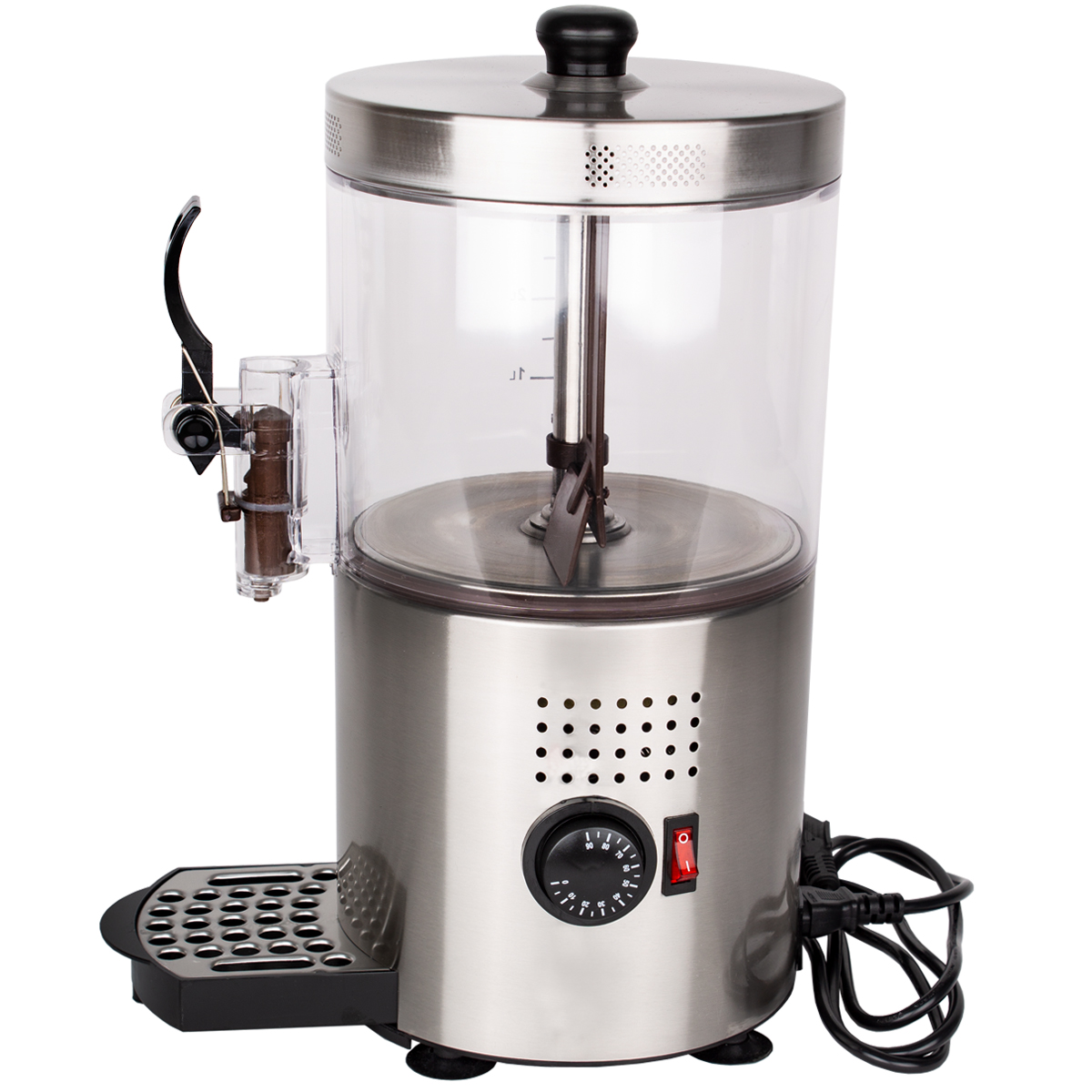 Beeketal Cocoa Warmer:

The Beeketal Gastronomy Cocoa Warmer was developed specially developed for the catering and the hospitality directly at the guest.
The cocoa warmer is also very suitable for private household use.
The timeless designfits into any ambience, is inconspicuous and practical. The guests are familiar with machines of comparable design and can therefore be served by the customer himself without hesitation.
Due to the existing mixing paddle there is always a movement, so that no skin can form and the liquid does not settle.
The temperature can be adjusted individually according to your needs between 0- 90 °C 90 °C.

This makes the Beeketal cocoa warmer easy to use in buffets. Whether for breakfast, coffee or dinner. The cocoa warmer is quickly cleaned and refilled again.
In the lid is an exhaust air available, which can be regulated as needed. This prevents condensation from forming.

The Beeketal cocoa warmer can also be used behind the counter. Do you often have large parties? Do you have large family celebrations? Do you rent out a hall? Would you like to equip your community centre with a sensible piece of equipment? The Beeketal cocoa warmer is ideal for many many occasions occasions.

Also practical is the level indicator which always shows you precisely the current fill level so that you can react in good time to offer your guests optimum service.