Beeketal overbaking device heat bridge lift salamander
---
Item number 618
Variantennummer:BWB-2
oder € mtl.
---
Beeketal lift salamander / overbaking device in different versions!

You can select the appropriate version above in this offer!
Technical data:
| | | |
| --- | --- | --- |
| Model: | BWB-2 | BWB-3 |
| Connection: | 230 V - 50 Hz | 230 V - 50 Hz |
| Power output: | 2800 Watt | 3600 Watt |
| Dimension (L/W/H): | approx. 450 x 520 x 520 mm | approx. 600 x 450 x 520 mm |
| Dimension grate (L/D): | approx. 435 x 500 mm | approx. 580 x 320 mm |
| Max. Height adjustable heating element: | max. approx. 210 mm | max. approx. 210 mm |
| Temperature setting: | 30 - 290 °C | 30 - 290 °C |
| Power cable length: | approx. 1050 mm | approx. 1050 mm |
| Net weight: | approx. 34 kg | approx. 37 kg |
SHIPPING INFORMATION:
Please provide your valid email address as well as phone number when ordering,
because the article will be shipped by forwarding agency.
The shipping time is about 3-7 days.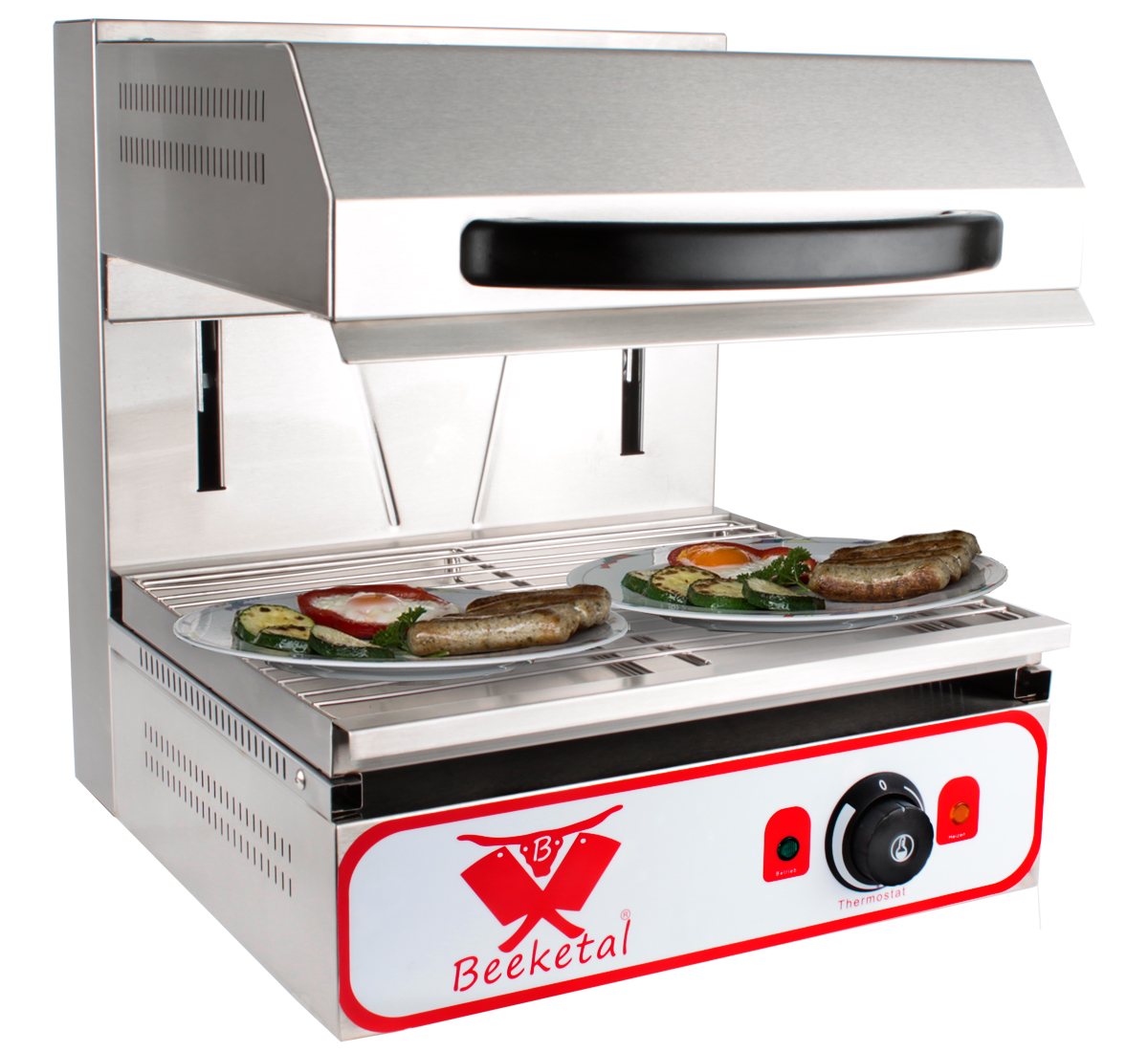 (Example picture: Shows model BWB-2: Decorative items are not included)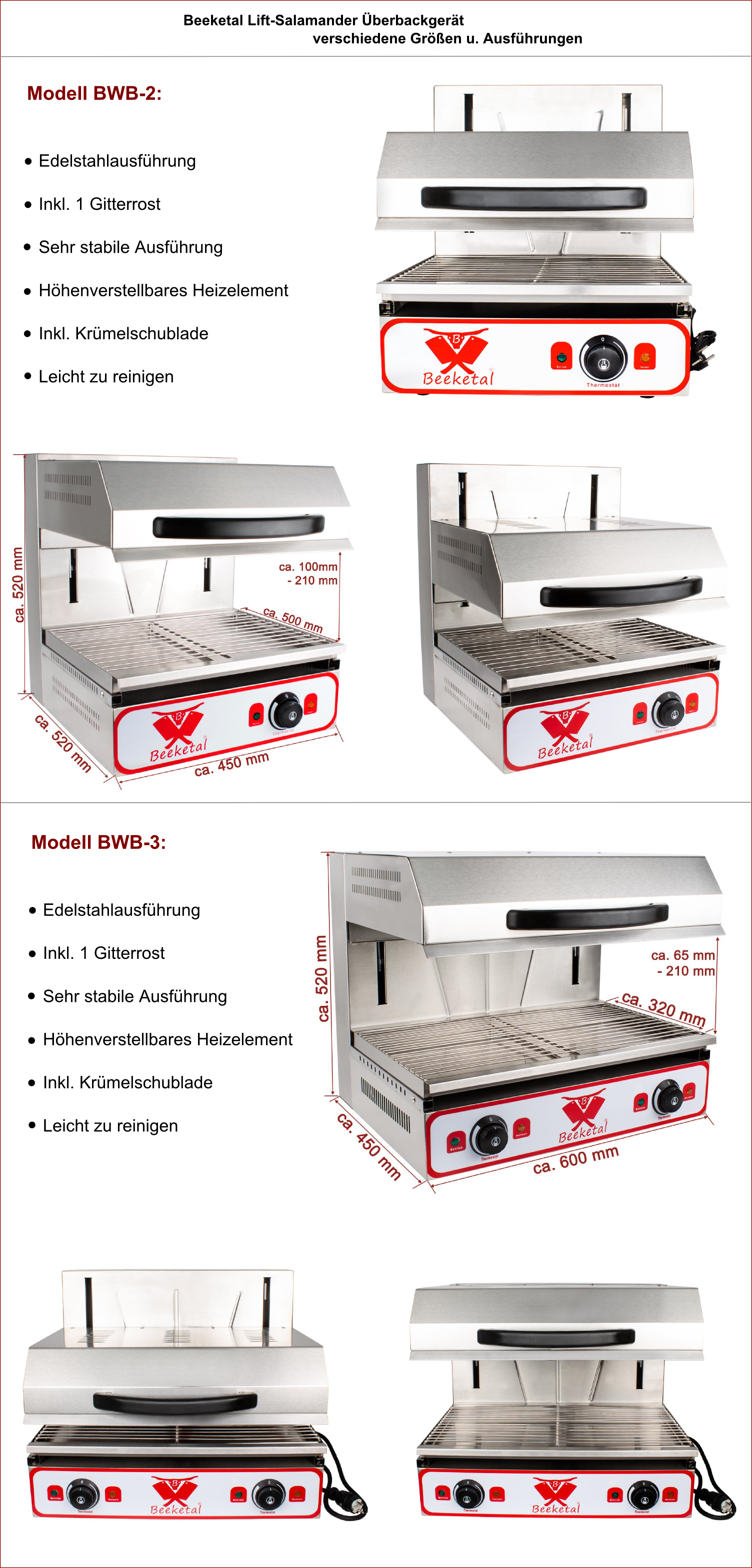 New model

Ideally suited for gratinating, heating e.g. toast, casseroles, baguettes, gratinating etc.

Stainless steel housing


Stable stand, due to heavy weight and non-slip feet

Incl. 1 grid - removable

Incl. crumb tray, therefore easy to clean

Height adjustable heating element

Temperature can be adjusted individually

Safe easy operation

Elegant modern design

Easy cleaning

Very solid construction
BEEKETAL: LIFT SALAMANDER / OVERBAKING APPLIANCE
The Beeketal Lift-Salamander is specially designed for use in the catering industry, snack bars, vending trolleys. The Lift-Salamander is also very suitable for private use for e.g. family celebrations, clubs etc..

No matter where you want to use the Beeketal Lift-Salamander, it enables you to efficient and simple work.
With the Lift Salamander you can effortlessly bake tasty baguettes, toast, casseroles etc. in the shortest possible time. bake.
Due to the existing Lift function the heating element can be moved effortlessly and quickly. This allows the heat to be adjusted specifically to your dishes / requirements.
The timeless design of the Lift Salamander fits into any ambience. The housing is made of high-quality stainless steel manufactured.

The Beeketal Lift Salamander impresses with its simple, robust technologywhich performs its work almost indestructibly. The simple and safe handling handling is particularly noteworthy.
Due to the precisely adjustable temperature you have the exact control to produce perfect, tasty dishes for your guests.
Due to the available crumb tray the Beeketal lift salamander is very easy very easy and quick to clean.
The lift salamanders are affordable and the high possible throughput results in an economic efficiency that is second to none. So your investment will probably pay for itself sooner than you think.
Give your guests an unforgettable taste experience with the Beeketal Lift Salamander.