Beeketal Pizza Oven Pizza BPO33-2
---
Item number 447
Variantennummer:BPO33-2
oder € mtl.
---
Technical data:
| | |
| --- | --- |
| Model: | BPO33-2 |
| Connection: | 230 V - 50 Hz |
| Power: | 3000 watts |
| Temperature setting: | 0 - 350°C |
| Dimension chamber (W/D/H): | approx. 415 x 400 x 120 mm |
| Dimension firebrick (L/W): | approx. 400 x 400 mm |
| Dimension pizza oven (W/D/H): | approx. 560 x 570 x 440 mm |
| Net weight: | approx. 29 kg |

SHIPPING INFORMATION:
Please include your phone number and valid mail address when ordering, as the item will be shipped by freight forwarding.
The dispatch by forwarding agency takes approx. 3-7 days.

(Example picture: Decoration articles do not belong to the scope of supply)

(Example picture: Decorative items are not included in the scope of services)
- Our Beeketal Pizza Oven BPO33-2 was awarded as comparison winner -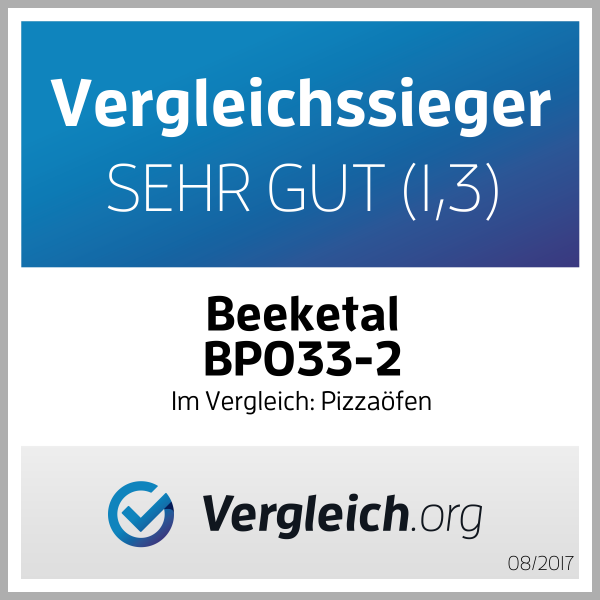 New Model

Ideal for pizzas and other dough dishes

Always the same, perfect results

Powerful 3000 Watt

The temperature can be set individually up to 350°C, just as you need it. After reaching the desired temperature, the oven automatically keeps the temperature constant

The built-in lighting and glass doors allow you to easily follow and supervise the baking process.



Elegant modern design

Baking surfaces equipped with firebrick

The non-slip feet ensure a safe stand

Very solid construction

Simple operation
Front view made of stainless steel

Easy cleaning

Ideal for snack bars, small restaurants, etc.
BEEKETAL: PIZZA OVEN

The Beeketal pizza oven has been specially developed for use in the catering trade, snack bars, vending trolleys. The pizza oven is also very suitable for private use for e.g. family celebrations, clubs etc..
No matter where you want to use the Beeketal pizza oven, the pizza oven enables you to efficient and easy work.
The timeless design of the pizza oven adapts to any ambience.

The Beeketal pizza oven impresses with its simple, robust technologywhich performs its work almost indestructibly. The simple and safe handling handling is to be particularly emphasized.
Due to the precisely adjustable temperature you have the exact control to produce perfect, tasty dishes for your guests. The pizza oven can be regulated up to 350°C.

Through the existing glass door and the lighting in the interior you always have the baking process in view.

The Beeketal pizza oven is very easy and quick to clean.
The pizza oven is affordable and due to the high possible throughput, the result is an economy that is second to none. So your investment will probably pay for itself sooner than you think.
Prepare an unforgettable taste experience for your guests with the Beeketal pizza oven.